Uzbekistan Rock Climbing
Rock climbing, Bouldering, Free climbing, Top roping, Mixed climbing, In aid climbing

Rock Climbing Festival in Yangiabad, celebrating the enchanting rocks of Yangiabad, Uzbekistan, will take place on April 28 – May 9, 2012.
The event's main sponsors are ClimberCA, Federation of Mountaineering of Uzbekistan and Yangiabad Resort (http://www.pagetour.org/uzb/hotels/Yangiabad_Resort.htm) - the Festival's official accommodation and meals.

The festival will be opened officially on Sunday night, April 28, with a dinner on the terrace of Yangiabad Resort.

On following days, the program included climbing during the day and various events in the evening.

An open Rock Climbing, Bouldering and Dyno competitions will be organized on Saturday evening, May 4-th.

The Yangiabad Rocks are very famous among rock climbers since middle of past century. There are plenty of various routes on these rocks. Yangiabad also known as a place with stable and warm weather. After festival all participants are invited to visit Samarkand and Bukahara.

Registration fee for all participants with the exception of citizens of Uzbekistan - $220

This sum includes:
- Accomodation in Tashkent - in the guest house, assistance with registration; assistance in acquaintance with sights of Tashkent;
- Fare by public transport up to a Yangiabad and back;
- Accommodation in tents and place for installation of individual tents in camps;
- Accompanying person when necessary;
- Food stuffs;
- Shared utensils;
- Gas, stoves.

The given sum does not include:
- Cost of registration of temporary stay in Uzbekistan;
- Individual transport;
- Hotel accommodation in Tashkent or in Yangiabad resort;
- Individual guide.

Only for the participants living on Yangiabad Resort Registration fee includes:
- Individual guide;
- Outdoor food stuffs;
- Shared utensils;
- Gas, stoves.

All participants should have:
- Sleeping bag;
- Harness system;
- 2 Carabiners;
- Quickdraws;
- Warm clothes, raincoat;
- Warm cap;
- Trekking footwear;
- Climbing shoe;
- Sleeping mate;
- Chalk;
- Head torch;
- Good mood, songs, jokes, smiles.

Mountains, Photo & Sightseeng in Uzbekistan. Sketch itinerary 2017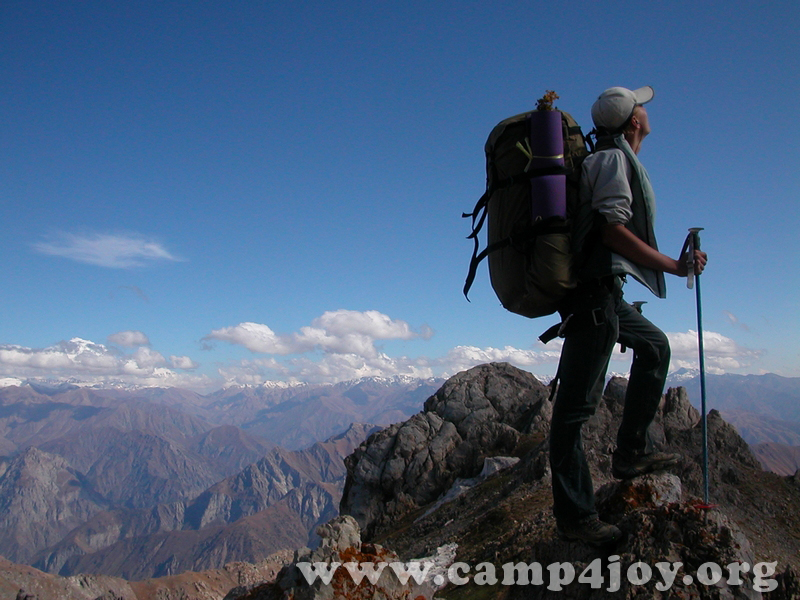 Contact information
e-mail: This email address is being protected from spambots. You need JavaScript enabled to view it.
viber/whatsapp: +99897 7009846
telegram: +99898 3039846

Chimgan-Beldersay is the most famous natural area in Uzbekistan, which is located in the mountains of Western Tien-Shan (90 km far from Tashkent). Chimgan in the best way approaches for photo leisure with families and children, Beldersay is more appropriate for hiking and trekking with your cameras. The most interesting areas for touring are situated between 2000-2500 m.

Sketch itinerary 2017

Day 01. Arrival in Tashkent. Meeting at the airport, transfer in Chimgan. Arrangements with an accommodation. If the time allows - walking tour around Chimgan Resort area.

Day 02. Early in a morning an ascent to the Western Ridge of Chimgan 2350 m. Majestic panorama of Ugam, Pskem and Koksu ranges of the West Tien Shan surrounding Charvak water reservoir opens up from this point. Descent to Chimgan. Return to hotel.

Day 03. Transfer in Beldersay. Ascent to the highest point of Kumbel peak (2880 m.) with the chair lift. Descent is carried out from mountain Kumbel, which slopes in have smoothed relief (steepness up to 30 degrees) without deep gorges and canyons. Archa and the deciduous woods grow on slopes alternating with open glades. Going up to the top of Kumbel mountain is carried out by chair lift road (length 2250 m). Return to hotel in Chimgan.

Day 04. Going up by a good path to the Pesochniy pass (1,832 m). Descending to the gorge of the Gulkamsay river. After rest in the birch grove go through one of the most beautiful places in the mountains of Uzbekistan - the Gulkam canyon. Canyoning. After rest - climb back to the Pesochniy pass (1,832 m), then ascent to the Smaller Chimgan Peak (2,100 m). Panorama of Ugam, Pskem and Koksu ranges. Descent to Chimgan. Return back to hotel.

Day 05. Early morning pilgrimage to Kyzyl-Jar peak (1,866 m), for a spectacular sunrise over the Greater Chimgan 3309 m. Descent to Chimgan. Walk through the Ak-Sai gorge. Return to hotel.

Day 06. Departure by car to Tashkent along the Charvak artificial lake. The road goes around the lake through the Brichmulla-Nanai area, which incorporates villages, situated in the south-east of the Charvak water reservoir at 960 m. You vill have a look Brichmulla and other villages in the area: Yakkatut, Yanghikurgan, Yusufhona, Yubileiniy, Baladala, Bogustan, and Nanai people. A great majority of population are ethnic tajiks. We will finish our excursion in Khodjikent, place of ancient market with ancient platans and rock paintings. Arrive to Tashkent train station. Leave for Bukhara by the night train.

Day 07.
07.00 Meeting at the Kagan train station. Transfer to Bukhara. A breakfast in hotel;
09.00 Excursion across Bukhara;
19.00 Transfer to train station;
20.50 Train to Samarkand.

Day 08.
01.40 Arrival in Samarkand. A meeting at train station, transfer to hotel.
10.00. Excursion across Samarkand.
17.30. Transfer to the train station.
18.00 Train to Tashkent.
20.00 Arrival in Tashkent, meeting at train station, transfer in the airport.
End of the program

The cost includes:
All meetings, seeng-offs and transfers on a route.
Service of a professional guide.
Accommodation in guest house in Chimgan (or hotel on your choice). Registration.
Railway tickets for a train (compartment) Tashkent - Bukhara, Bukhara - Samarkand.
Railway tickets for «Аfrosiab» train Samarkand - Tashkent.
Service of guides in Samarkand and Bukhara.
Car with the driver during excursion in Samarkand.
Breakfast in Bukhara and Samarkand (and in Chimgan at place of residence).

The cost does not include:
A food in Chimgan and in the cities.
Lift charge in Chimgan and Beldersay.
Entrance tickets for excursion objects in Samarkand and Bukhara.

Price.
2 pax:
550 USD - accommodation in guest house.
630 USD - accommodation in hotel (Standard room).
3 pax:
455 USD - accommodation in guest house.
635 USD - accommodation in hotel (Junior suite room).
4 pax:
485 USD - accommodation in guest house.
600 USD - accommodation in hotel (Standard room).
 
Uzbekistan Mountains near to Tashkent
Chimgan Mountains
The Chimgan Mountains are invariably attractive for mountaineers. The wide variety of Chimgan and its surroundings allows the activity in all kinds of mountaineering and landscape tourism. Mountains  (Small and Greater Chimgan Peaks - 3,309 m) of Chatkal range, plateaus, the Black Waterfall (40 m) at the lower part of Greater Chimgan Peak, Gulkam waterfalls, attract a lot of tourists from Uzbekistan and abroad.

Chimgan landscape photographs
West Tien-Shan Mountains Map

Ugam & Karjantau ridges
Another attractive place for mountaineering is situated on Ugam ridge and on the southern; slopes of the Karjantau ridge of the Western Tyan-Shan system.
There are following natural sites, which are of interest of mountaineers in area of Ugam & Karjantau ridges:
• Peak Mingbulak (2,628 m)  - the highest peak of the Karjantau ridge.
• Qizilsuv waterfalls - the pictorial cascades that flow at the sinuous river gorges of Qizilsuv Mountain River.
• Loquacious cave is located on plateau Ghiza, 20 km from village Humsan, in a funnel-shaped hollow. On the bottom of the hollow, in the exposure of grey limestone, there is a 1x1 m rectangular aperture transforming to a 1.5 m high sloping tunnel. Its floor is covered with lumps, ceiling being arcaded. This tunnel is 20 m long and leads to the inner larger part of the cave. A ladder is needed in order to proceed into the cave as there is a 6 m high prominence. Then the floor levels out, height reaching 20-30 m. The cave is so named due to a streamlet flowing through it.
• Arkutsay – exposure of loess stratum. The site is 3 km west of Humsan, on the right bank of the Ugam River. Section of the formation represents the wall of a small landslide breakaway and is a stratum of interstratifying loess-like loams of Quaternary and fossil soils horizons. The section is unique as it exposes more than 80 m thick deposition of rocks.
• Kyrk-Kokyl waterfall (in Uzbek "Kyrk-Kokyl" means 40 plaits) – pictorial waterfall at Pustonlyk – confluent of Ugam River, 9 km from Humsan village.


WADU 01. Adventures in Uzbekistan
Uzbekistan, 15 days tour. Itinerary: Tashkent – Nukus – Muynak – Khiva – Bukhara – Nurata – Yurt camp – Sentyab village – Samarkand – Tashkent – Chimgan – Charvak – Tashkent. Best time: April, May, June, July, August, September, October More >>


Incentive tours to Uzbekistan
Uzbekistan is a country with an ancient history and the culture having more than 25 centuries, with legendary fantastic Samarkand, Bukhara, Khiva cities. Tashkent is the capital of the country. Here are high minarets, majestic madrassahs, mosques, palaces, mausoleums decorated by unique ornaments and mosaic. More >>


WCUZ 01. Classic Uzbekistan
Our coach tour will immerse you deeply in the history of most ancient towns of the world - Samarkand, Bukhara, and Khiva. Itinerary: Tashkent – Samarkand – Bukhara – Khiva – Tashkent. All season.

price: 680 USD

More >>


Country Hotels Uzbekistan
Uzbekistan Recreation, Resorts Uzbekistan. Mountain resorts of Uzbekistan, Hotels. Information. Booking. Resorts Tashkent hotels More >>


WCUZ 03. Uzbekistan - Oriental Fairy Tale
Unusually combined tour will get you know the ancient cities of Uzbekistan - Samarkand, Bukhara, Khiva and its nature. You will ride along the picturesque canyon in Aktau mountains. Majestic desert ship - a camel will get you to the lost village in Kyzyl-Kum sands. There you will meet the local people who still keep the traditions and ancient style of life. You will visit rocky art gallery of primitive men in Sarmysh gorge, a huge Aidarkul lake in the middle of a desert, Chimgan mountain ski resort in Tien-Shan mountains.

price: 630 USD

More >>


WCUZ 02. All Uzbekistan
Interesting historical-cognitive tour will familiarize you with the most interesting please of Uzbekistan: from the ancient lands of Khorezm and Karakalpakstan in the north-west up to Fergana Valley and Pamiro-Alay Mountain Massif in the east, from Tien-Shan in the north up to the ancient Termez on Amudarya River in the south.

price: 1700 USD

More >>


WCUT 01. From Kyzylkum Desert up to Tien-Shan Mountains
Unforgettable, full of contrasts tours carries out along the territory of two Central Asian republics: Uzbekistan and Kyrgyzstan. Majestic minarets, blue domes of mausoleums, ancient Medrese and impressing caravan-saraies "will tell" you about bygone power and wealth of Uzbekistan. You even won't notice smooth change from city civilization to magnificent mountain landscapes, untouched nature of Kyrgyzstan, its "pearl" – Issyk-Kul Lake, traditional life of shepherds on the high-mountain Son-Kul Lake. The impressions from everything you have seen are remained in your memory for a long time. More >>


WCUT 02. To UNESCO World Heritage in Central Asia
Historical and cultural tour of the two most interesting Central Asian republics will acquint visitors with divers culture and monuments of ancient civilizations: Margiana, Parphia, Sogdiana and Khorezm. In 2 weeks you will visit 8 (!) objects of UNESCO World Heritage in Samarqand, Shakhrisabz, Buchara, Khiva, Merv, Margush, Kunya-Urgench and Old Nisa. More >>


WCUT 03. Along Alexander Macedonskiy Road
An excursion-historical tour passes along the territory of Uzbekistan and Tajikistan. It repeats the part of the way of Alexander's Asian campaign. The tour is assigned for those who love history, ethnography and oriental exotic. Duration: 15 days Season: June, July, August. More >>


WUTK 01. Pamir – The Roof of the World
Unique tour along Pamir Highway introduces you to one of the forbidden places of our planet. There are only two places in the world (Tibet and Andes) where car roads are laid through the mountains on above 4 000 m height. You will be able to see the high Pamir Mountains, rivers and lakes, famous Vakhan Valley, ruins of ancient fortresses Kaakhka, Yamchun, Ratm, take a bath in curative thermal springs, meet with local people – pamiris, which preserved their cultural and centuries-old traditions. More >>


WEFU 01. Mountain flowers in Uzbekistan
It is an interesting tour for lovers of nature and light hiking, it runs in spring (the end of March – May), when thousand kinds of plants and flowers start to blossom. During one week trip, you will not only walk and enjoy nature in South-West Tien Shan mountains and Pamir-Alay ridges, but also visit legendary Samarkand, with its worldwide famous monuments - objects of UNESCO World Heritage. More >>


WCRU 01. On Baktrian camel through Kyzyl-Kum desert
The trek goes through the center of the Kyzyl-Kum ("Red Sand") desert. During the tour many discoveries and interesting meetings are waiting for our participants every day. Season: April, May, June, July, August, September, October. More >>


WHKU 02. To the source of Paltau-say
Paltau tour passes through Chatcal nature reserve, which located in the spurs of Western Tien-Shan mountains. From ancient times Paltau-say is famous by ore with rich content of metal. There are still some remains of smelting furnace, dated by the Middle Ages.

price: 70 USD

More >>


WJUZ 01. On Jeeps to Aral Sea through Kizil-kums
The fascinating tour on 4WD vehicles passes through the Kyzyl-Kum - one of the greatest deserts of Asia . You will get the Aral sea shore after having passed hundreds kilometers in sands. Now one can still see the remains of beached boats, amazing Aral motley rocky shores and mysterious Usturt plateau. There will also be the opportunity to take pleasure of observing the world famous monuments of Samarkand and Bukhara. More >>


Tour to Fergana Valley
The tour can be organized in your own dates / any number of pax, cost & conditions are available upon request. The best time for this tour: March, April, May, June, July, August More >>


Fergana valley - Garden of Uzbekistan
Travel in the Ferghana Valley, Uzbekistan. Tour package consists of a combination of historical and architectural components. Itinerary: Tashkent-Dangara-Kokand-Rishtan-Fergana-Margilan-Aksikent-Chust-Fergana-Tashkent. Duration: 3 days/2 nights More >>


WCRU 01. On Baktrian camel through Kyzyl-Kum desert
The trek goes through the center of the Kyzyl-Kum ("Red Sand") desert. During the tour many discoveries and interesting meetings are waiting for our participants every day. Season: April, May, June, July, August, September, October. More >>


Uzbekistan Hotels in Tashkent Samarkand Bukhara Khiva
Uzbekistan hotels. Hotels in Tashkent Samarkand Bukhara Khiva. Information. Booking More >>


Bukhara Hotels
Bukhara hotels. Hotels in Bukhara. Information. Booking More >>


Samarkand Hotels
Samarkand hotels. Hotels in Samarkand. Information. Booking More >>


Khiva Hotels
Khiva hotels. Hotels in Khiva. Information. Booking More >>


Tashkent Hotels
Tashkent hotels Information Booking More >>