Spring in Komorchek trekking programm in Kyrgyzstan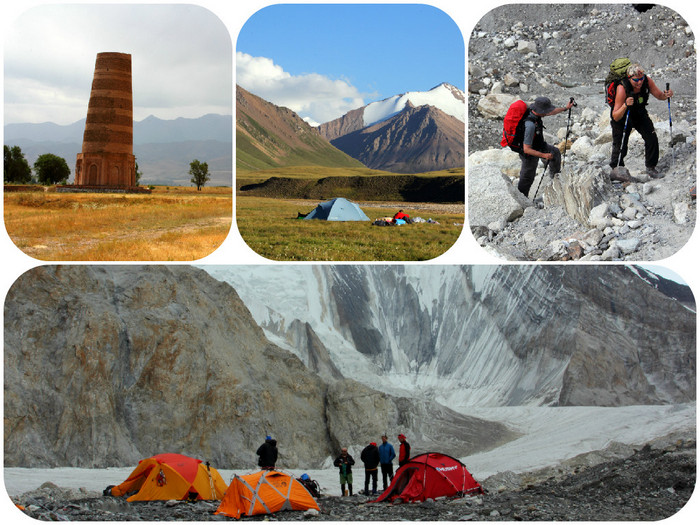 Join us for only -1100 USD per person.

Dates: from 21th May till 29th May

Activity: Trekking
Price: 1100 USD per person
Program:
Day 1: Arrival in Bishkek. Hotel.
After a rest we will make a sightseeing in Bishkek. At Ala-Too square the natural beauty of Kyrgyzstan becomes instantly apparent with the snow capped peaks clearly visible in the distance. As we continue our tour you will be able to get an impression of the city's architecture as we visit the local landmarks, green city parks, open-air painting gallery, historical museum and much more. (B/ L).
Day 2. Transfer to the in Ala-Archa natural preserve (40 km), where we will take a hike to acclimatize for trekking. The Ala Archa Gorge is one of the most beloved recreation areas for city-dwellers and travelers alike. Here one can also see the highest point of the Kyrgyz Mountains –Semjonova-Tjanshanskogo Peak (4895 m). Return to Bishkek. Hotel accommodations. (B/ L).
Day 3. Transfer in the Boom Gorge.
Our path goes through a narrow, rocky labyrinth with steep walls at the end of which we will find ourselves in a broad valley basin full of bizarre castle-looking formations of clay and sandstone which have been shaped by erosion over millions of years. Snack.
We will then climb to the Sulu-Terek mountain pass (2320 m) which provides a panoramic view of the Komorchek Canyon as well as others. We will return to our campsite located at the convergence of the Momortschek and Kokschar-Suu rivers (7-8 hours). Camping in tents overnight. (10-11km; 1790 m). (B/ L/ D)
Day 4. Today we will be scouting and exploring the labyrinth of various canyons with names like "Grand Canyon", Bobsled"canyon and "skyscraper"canyon – amongst others. In some canyons you'll really have to strain to measure the true dimension whereas in others one comes face-to-face with the tight passages, some of which you will even have to turn sideways to pass through. Furthermore, it is sometimes necessary to climb the cliffs a bit in order to see the most interesting things. Camping in tents overnight. (B/ L/ D)
Day 5. The legendary overview of the canyons awaits us today after we climb the Sagyskhan- Choku Mountain (2925 m). This area was the floor of the bay of an ancient sea, the evidence of which is even readily apparent since one can still find fossilized muscles which lived here millions of years ago.
One who would like to enjoy a bit of alone time can wander around the area or return to the canyon again. Descent into the campsite. Overnight camping in tents. (B/ L/ D)
Day 6. Today trekking continues in the Kyzyl-Suu Valley over the Kok-Djar Mountain pass (2367 m) where we will catch one last glance of the canyons. Along the way we will have to wade over the small Kok-Djar river a few times. Overnight camping in tents. (13-14 km, 2170 m). (B/ L/ D)
Day 7. Trekking over boundless mountain pastures in the Kul-Tor Shamsinsky Gorge. Here the spring doesn't really get started until the first grass and flower sprouts timidly break their way through the surface of the soil. Towards the end of May and the beginning of June, however, the colors break out in force. Camping in tents overnight (13 km, 2170 m). (B/ L/ D)
Day 8. On the last day of our trek we will explore the Schamsy Gorge. Our path will lead us through vallies full of honeysuckle thickets, blackcurrant bushes, berberis, and other vegetation. We will climb to the seabed of what was once a lake and then continue through the Schamsy Gorge (11 km, 2110 m). We will be picked up by a car and transfered back to Bishkek for overnight in a hotel (B/ L/ D).
Day 9. Transfer to the airport and return home.(B/-/-)
The price includes:
1. Meeting/seeing-off in the airport
2. Accommodation in 3-star hotels, according to the program (twin accommodation).
3. Trekking tents for accommodation
4. Kitchen tent
5. Three meals a day during the program, including trekking days
6. Transport – according to the program
7. Trekking guide and cook for trekking days
8. Porters for carrying things, and the camp property. (Porter is 7-8 kg of the things the client. If you exceed this weight, you need to hire additional porters, advance notice to our company).
9. Entrance fee for all excursions according to the program
The price does NOT include:
1. International airfare to and from Bishkek
2. Equipment rental
3. Excess baggage charges
4. Cost of visa and consular services (for Russian citizens there is no need for international passport / visa)
5. Personal expenses in hotels: bar, international calls, etc.
6. Single room addition
7. Insurance
8. Any changes in the program
ClimberCA International Consortium
https://t.me/ClimberCA – telegram
+7966 065-53-44 – whatsapp/viber
e-mail: your@climberca.com