Description: K2 is second highest and hardest challenging peak ever to climb on Earth , it is located in the heart of Karakoram Mountain range right on the border between China and Pakistani Kashmir region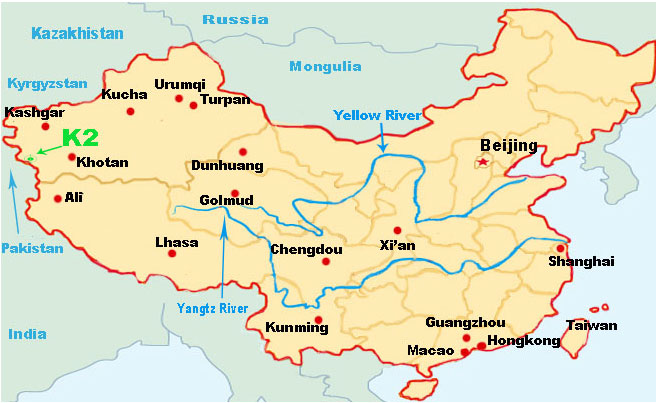 Difficulty level: K2 is second highest and hardest challenging peak ever to climb on Earth , it is located in the heart of Karakoram Mountain range right on the border between China and Pakistani Kashmir region ,you can not only explore the K2 BC , but also can witness the towered other eight thousand and seven thousand numerous peaks located around the least visited side of Karakoram , if you want to do adventurous and least visited mountain expeditions, trekking to K2 north face from Kashgar is best option as it has unique characteristics ,cultures and landscapes .Access to K2 North Face is not terribly easy, expedition will be strenuous, but not extreme that trek 5hrs to 7hrs per day on the steep rocky terrain sided river valleys at the elevation of 3500m to 4870m. Highest point that cross through during trek isAghilPassat elevation of 4870m that will be crossed on the 3rd day of expedition from Yilik where we start trekking and get on vehicle back to Kashgar . Expedition will be camel supported as we bring lots of equipments with us all the way until Sughet Jangal (locally known as China Base Camp) largest greenery in the area with lots of grass, bushes and trees. Best time to do this Expedition: April, May, until mid June, September and October.
Day 1 Torugart to Kashgar
Cross border into China from Kyrgyzstan throughTorugat Pass, meet with China Liaison officer at the border and drive to Kashgar in the afternoon, Transger to the Hotel.
Day 2 Drive to Karghilik ( Yecheng in Chinese)
Today drive to Karghilik with four wheel drive taking the Southern Silk Road leads us to Karakoram , stop for lunch in former imperial Capital Yarkand Of Uyghur people few century ago , arrive Karghilik in the afternoon transfer to the Hotel.
Day 3 Karghilik to Yilik via Mazzar villlage
Drive to Yilik where is last poit that we could reach by vehicle and start our trek with camels , there is no way but driving on the Xinjiang – Tibet highway until Mazzar village , then further drive west break through Karakoram to reach Yilik by crossing Yarkand river and Mountain passes, camping in Yilik.
Day 4 Yilik to Sarak
Today we load the all camels with our equipments in the morning ,and start our breathtaking expedition to K2, after 5 hours trekking we will arrive camp site on trerrace on side of junction of Surakwat and Shanksgam river, todays trek is smooth just walking on the stones in the narrow valleys , overnight camping
Day 5 Sarak to Kotaz
Today we will trek up to small campsite Kotaz(4300m) at the boot of Aghil Pass (4870m), today's trek will be preparation for our higher altitude and crossing Aghil pass next day , overnight camping at the boot of Aghil pass.
Day 6 Kotaz to cross Aghil pass and camp in Kerqin (Shaksgam)
Our trek today is goung to be very difficult compared to the other days, because we cross 4870m Aghil pass with all of our equipments loaded on the camels, it takes 3 hrs to cross the pass , from the top of the pass, there will be a great view of Karakoram Mountain range, and camp on the other side of the pass named Kirqin at the elevation of 3900m . Overnight Camping
Day 7 Kirqin to Ottur Jangal
Trek today is very smooth, slightly downward in altitude following the downstream of Shaksgam river, and arrive campsite in Ottur Jangal on the way to Sughet Jangal, overnight camping.
Day 8 Ottur Jangal to Sughet Jungal (ChinaBase Camp of K2)
After short trek today we will have first view of giant Mountain K2, arrive Sughet Jungal by following theSarpoLagoRiver, Sughet Jungal is most green parts of Karakoram with grass, trees and bushes on the delta of K2 Glacier stream. Overnight camping in Sughet Jangal.
Day 9 Rest Day at Sughet Jungal
Today rest at Sughet Jangal for preparing to further trek up the Glaciers on next day .overnight Camping
Day 10 to 13 Glacier exploration around the area
Visit the K2 North Glaciers in these four days.
Day 14 Return Trek Sughet Jangal to Ottur Jangal
Today we will pack all our equipments same way trek back to Yilik
Day 15 Return Trek Ottur Jangal to Kerqin
Day 16 Return Trek Kerqin to Kotaz by Crossing Aghil Pass
Day 17 Return Trek Kotaz to Sarak
Day 18 Return Trek Sarak to Yilik
Today wil be the last day of expedition as soon as arrive Yilik, unload all camels and prepare for going back to Kashgar by four wheel drive next day.
Day 19 Yilik to Karghilk by four wheel drive.
Day 20 Karghilik To Kashgar
Today on the way back to Kashgar , eat lunch in Yarkand and short visit to the Royal Mausoleum and Mosques ,
And arrive Kashgar in the evening to transfer to the Hotel.
Day 21 Kashgar City Tour
Kashgar has been claimed "the best-preserved example of a traditional Islamic city to be found anywhere in Central Asia", although the city is becoming more developed. Being the Islamic cultural center of China, Kashgar is very important western most special economic zone in China now days as it was also very important hub and earliest Islamic cultural center in Central Asia's Silk Road.
So far today we will do full day excursion in this city, and visit Kashgar Sunday livestock Market, south and central Asia Market, Apak Hoja tomb, Idkah Mosque and Kashgar old town, and enjoy the Uyghur local cuisines like kebab, hand pulled noodle in best Uyghur food restaurant in kashgar.
Kashgar Live stock Market: Open field agricultural animal market only held every Sunday, Uyghur farmers type, very local atmosphere, business is all about the animals like sheep, yaks, goats, donkey, cows, camels and horses.
South and Central Asia Market: it is regular commodity market that has all sort of goods, Market attracts more than hundred thousand people every Sunday from nearby towns around the kashgar and from central Asian countries as well.
Apak Hoja tomb: Mausoleum is finest examples of Uyghur Islamic architecture in China, large dome of 17m is at the center surrounded by four corner minarets with strips and arabesque floral patterns initially built in 1640, powerful religious and political leader Apak hoja's five generations of relatives buried inside the tomb.
Idkah Mosque: Being largest mosque in China and 12th largest in the world, Idkah mosque is unique best preserved Uyghur architecture in nowadays and can hold more than 20 thousand worshipers on Friday prayer. the mosque built in 1442.
Kashgar old town: well preserved more than 1000s years old Uyghur residential area, people began to settle down there 11 hundred years ago after Uyghur people converted to Islam during the period of Great Karakhanid Dynasty which had been dominated whole central Asia from 9th century to 13th century, Kashgar was a capital .and it was cultural, political and important transportation hub in Central Asia's silk road, it is treasure of silk road. Karakhanid dynasty imperial palace was also located in this old town, and still some parts of palace wall visible.
Because of it's unique natural old fashion medieval style, old town attracted the attention of Hollywood to shot the film "Kite Runner", most parts of the film was shot in this old town.
And more than 40 thousands of Uyghur families still live here behind hand-carved poplar doors, many in tumbledown rentals, others in two-story homes that vault over the alleys and open on courtyards filled with roses and cloth banners. Current architectural and life style of people directly derived from Medieval Karakhanid Uyghur culture. Possibly we have chance to visit one of the family.
Day 22 Leave From Kashgar to Torugat pass
Note: If you would like to do some adjustment in this Itinerary or if you want detailed price quotation please feel free to email us at: your@climberca.com, if there are any place don't satisfied we can adjust the Itinerary according to your every request, this expedition starts from Kashgar China's western most Silk Road Oasis City.