E-Mail | Home





Kyrgyzstan Mountaineering

Experienced Climbing in Ala-Archa.



Heli skiing in Kyrgyzstan



Climb Lenin Peak Expedition (7.134 m)
Guaranteed departure date expedition with an experienced mountaineering guide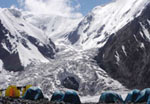 Khan-Tengri Peak Expedition (7.010 m)
Guaranteed departure date expedition with an experienced mountaineering guide.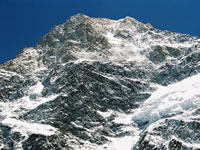 Pobeda Peak Expedition (7.439 m)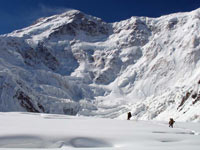 ---
Fann Mountains. Trekking in Fann Mountains

Key Information
Tour Duration: 12-14 day(s)
Recommended Group Size: 1 - 10 people
Destination: Tajikistan
Location: Western Tajikistan, near the Uzbek border (and Samarkand)
Specialty Categories: Mountain Trekking/Mountain Climbing
Grade: Moderate to fairly challenging
Season: June - September
International Airfare Included: No
Local Airfare Included: No
Local Transportation Included: No
Personal Travel Insurance Included: No
Personal Equipment Included: No
Foodstuffs (for three meals a day) Included: Yes
Tour Customizable: Yes
Ability to climb Chimtarga, Energiya peaks: : Yes
Mountain Guides Service Included: Yes
Porters Availability: Yes
Cook Availability: Yes
The Guide/Climber Ratio: 1:5
Suppliers contact information: e-mail: pagetour@yandex.ru; phone: +99898 3039846.

Trek Price Per Person

12 days (1:5)
Individual: U$ 720
2 Pax: U$ 390
3, 7, 12 Pax: U$ 288
4-5 Pax: U$ 252
6 Pax: U$ 330
8-10 Pax: U$ 252
11 Pax: U$ 312
14 days (1:5)
Individual: U$ 840
2 Pax: U$ 455
3, 7, 12 Pax: U$ 336
4-5 Pax: U$ 294
6 Pax: U$ 385
8-10 Pax: U$ 294
11 Pax: U$ 364

Fann Mountains are beautiful mountains, with a few summits above 5000 m, culminating at Chimtarga peak (5489 m). They are located in Western Tajikistan, near the Uzbek border (and Samarkand). They usually enjoy sunny, stable weather during the summer. The Fann Mountains have recently been "discovered" by western trekking agencies. The northern part (lakes Kulikalon and Alaudin, but also Chimtarga pass and lake Greater Allo) is now visited by large groups (and their porters).

Since the Fann Mountains cover a relatively small area we intended to develop such trekking route, which can make possible to visit as many as possible of most significant natural sights in the limit of couple of weeks. The trek starts from North, passes to South, and then turns to West as shown on the map. All the logistics for this trek is prearranged for you by the team of ClimberCA - Mountaineering Agency.

Trek area Itinerary: Click here for a full-resolution map of the Fann Mountains.

Legend
Artuch mountain center in the Fann Mountains - start of trek; Tiogli village - end of trek;

- intermediate camps;

(black triangle) peaks of the Fann Mountains;

(black crosses) - passes/cols on the trek.

Day 1: Cross the border between Uzbekistan and Tajikistan near Djartepo town. The road is passing through Pedjikent town. There is a bazaar in the town. You can stop there if you wish to buy fresh food. From Penjikent you drive to Artuch mountain center, a comfortable base where you will spend a night. In the afternoon you can hike up to lakes Chukurak and Ziorat above Artuch.


| | | |
| --- | --- | --- |
| Bazaar gate in Penjikent. | Artuch mountain center and a pathway to lakes Chukurak and Ziorat (further up along a gorge). | Lake Chukurak. |

Day 2: We hike up over an easy pass to reach lakes Kulikalon, where we set our first camp (2800 m) on the lakeside of Bibi-Djanat Lake. Kulikalon lakes are dominated by two huge rock walls that attract many climbers.


| | | |
| --- | --- | --- |
| Bibi-Djanat Lake | Main Kulikalon Lake, with one rock wall behind. The highest summit on the left is peak Maria (4970 m). | Area near another lake – Dushakha (2950 m), with the second rock wall in the background. The highest summit on the right is peak Mirali (5170 m). |

Day 3: We cross Alaudin pass (3730 m, 1A) to reach Alaudin lakes. These are arguably the most beautiful lakes in the Fann Mountains.


The main two Alaudin lakes seen while descending from Alaudin pass (3730 m), with Chapdara (5197 m), on the left, and Bodhona (5304 m) peaks in background.

Another look to Chapdara and
Bodhona from Alaudin pass.

A greater Alaudin Lake.
| | |
| --- | --- |
| Reflection over an Alaudin Lake. | Piala (Cup) Lake. |

Day 4: In the morning we hike up to Moutnyi Lake (3430 m) below Chimtarga peak, where we establish a camp for next night. This point is as high as donkeys can go with us. Therefore on this day we should carry part of load to the place of our next camp near Chimtarga pass.


| | |
| --- | --- |
| Lake Moutniy | Moutniy Lake, seen while climbing toward Chimtarga pass. |

Day 5: Move up a camp at 4500 m below Chimtarga pass, spend a night there.

| | |
| --- | --- |
| Energia peak (5105 m) on the left and Chimtarga peak on the right. Chimtarga pass is between the two peaks. | Chimtarga pass (4500 m) viewed from campsite. |

Day 6: We cross Chimtarga pass (4500 m), then make a long descent into a large canyon (Right Zindon River) leading to Bolshoi (Greater) Allo Lake (3140 m) where we establish next camp.


Day 7: We hike downstream Zindon River (toward the West). It soon flows in Smaller Allo Lake (2340). Then Zindon River merges with Amshut River. We follow Amshut River further down to its confluence with Archamaidan River. Then we hike a bit Archamaidan River upstream (toward the South) to its confluence with Sarymat river. This is a place where we establish next camp.

This place is accessible by car. Also there is Gazza village near to this place, where we can replenish food supplies. This is also the fit place to arrange meeting with a donkey service group if you wish to have them again.

| | |
| --- | --- |
| Lake Smaller Allo. | Conluence of Archamaidan and Sarymat rivers. Sarymat River is the one with clear water on the right. |

Day 8: On this day we continue to hike upstream Archamaidan River toward Munora pass. At the place, where pathway to Munora pass leads to South, while Archamaidan River turns to South-East, we may leave a luggage with the donkey drivers in order to hike light to valleys of Sarikhodan and Pshtinat rivers (two inflows of Archamaidan River). When we came back to a luggage we continue to hike to Munora pass. We set camp just before Munora Pass.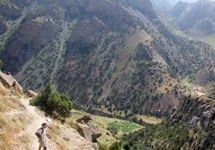 On the way to Munora pass


Day 9: We cross Munora then descent to the canyon of Sarymat River. This river flows from South to North, forming picturesque valley. Camping.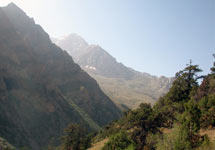 The canyon of Sarymat river.


Day 10: Cross Tavasang Pass (3450 m) and reach Tiogli village near Marguzor Lake. Camping ashore Marguzor Lake.

| | | |
| --- | --- | --- |
| View from Tavasang Pass. | Descent from Tavasang Pass to Marguzor Lake. | Camping ashore Marguzor Lake. |
Day 11: Day of rest. Hiking to other Marguzor lakes.

Day 12: Last day of trek. Return to Uzbekistan via Penjikent and Djartepo.