Price 1400 $ usd per head for 20 days expedition and 1750 $ usd per head for 25 days expedition.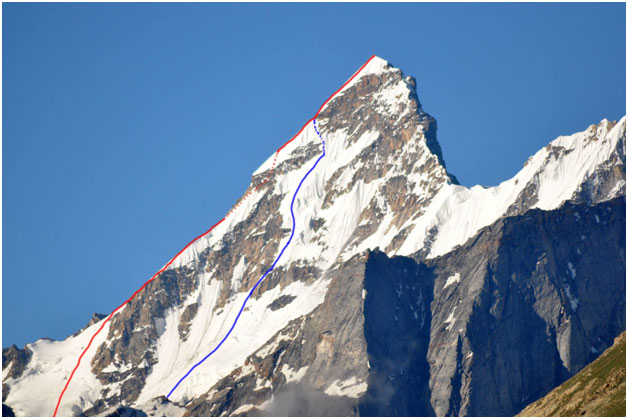 Duration 20day from this side (Blue and Red route) 25 day by the easy route which we have to approach it from behind. 
Minimum group size 4 person and 6 person respectively.
Time June to August first week. 
Grade ED1 and D (IFAS) respectively.
Mt Dharamsura(White Sail)6420m
NOTE: It is necessary 2-4 month for getting permit for climbing. 
What we provide &What is included in the price
Load-carrying:  During the trek to base camp members should carry personal clothing that should not exceed 8 to 12 kgs for easy acclimatizion. On the climbs above base camp members must carry their personal kit. In order to establish higher camps one might need to carry up to 10kg . Our high-altitude porters will carry the bulk of communal equipment, food and fuel up to Summit Camp. 
Provisions for medical treatment: We will carry a full medical kit and advertise for a doctor or paramedic to join the team. All Guides have long experience of expedition ailments.
Food: The food on the trip will be largely vegetarian. Our cook will provide a wholesome diet:-
Breakfast:  Oat meal, Omelettes, Paranthas, Chapattis
Dinners: Vegetable or Egg Curry, Puris, Pakora, Rice/Dahl/, Chow Mein, Custard, Jelly/Fruit Cake.
Lunch: Dried fruit, nuts, oatcakes/biscuits/paranthas, cheese, meat pate, jam, honey, peanut butter, chocolate, protein bars
Drinks: Soup, Fruit Drinks, Tea, Coffee.
Staff:  We will have a Cook/Field Executive and climbingSherpas and high altitude porters. All the staff are regulars on our trips and have achieved a very high reputation for service, support and team spirit.
Support:  We will assist and support like rope fixing, pitching the tents, cooking food in high altitude and on the approach march. 
Tents: We will provide tents for the camps on basis of two or three persons sharing. However, we suggest that one should take their own personal tent, giving one privacy and space for rest and recovery.
Equipment: 
We will provide all the group equipment , that include kitchen equipment , climbing hardware (tublers,carabiner,snow stake etc) , climbing rope and fixed rope, tent. 
What is not included in the price:
Personal clothing and gear required by the clients, all personal expenses(drinks,laundry,etc).
Personal equipment (snow boot, crampon, ice axe, jumar,harness, etc)
Food in Delhi / Manali / Uttarkashi /Munshiari / Joshimath
Liability for or insurance against injury, loss of life, accidents or loss of goods.
Any Cargo and Shipment Charges (Import and Custom Clearance).
Helicopter rescue / or any kind of rescue.
Liability for or insurance against injury, loss of life, accidents or loss of goods. 
Summit Bonus and tips.
ClimberCA International Consortium
www.ClimberCA.com
www.ClimberCA.ru 
PageTour@ya.ru 
skype – dmitriy.page
tel. +99898 3039846 – telegram – GMT+05:00