Uzbekistan Snowboarding & Snow-skiing
Ski touring & freeride program in Uzbekistan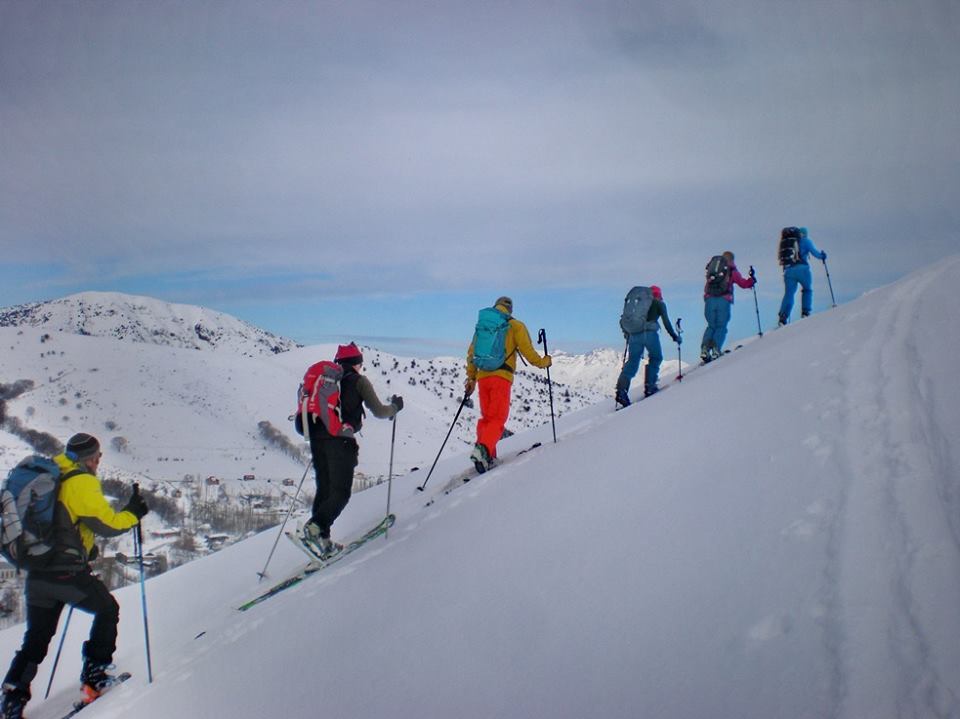 Ski touring & freeride program in Uzbekistan. Sketch itinerary winter/spring 2023-2024
Contact information
https://t.me/ClimberCA – telegram
+7966 065-53-44 – whatsapp/viber
e-mail:  your@climberca.com
Chimgan-Beldersay is the main skiing area in Uzbekistan, which is located in the mountains of Western Tien-Shan (90 km far from Tashkent). The most interesting areas for ski touring are situated between 2000-2500 m. There are several сhair ski lifts and gondola lifts in Chimgan and Beldersay area including Amirsoy (5 km from Chimgan).
Sketch itinerary winter/spring 2023-24
Day 01. Arrival in Tashkent. Meeting at the airport, transfer in Chimgan. Arrangements with an accommodation. If the time allows – ski-slopes of Chimgan. Chimgan has several pistes of different types of complexities.
Day 02. Acquaintance with the area, an ascent to the Western Ridge of Chimgan, and then descent downwards, vertical drop – 600 m. Start at height of 2350 m. It will be possible to do it two times during the day. Return by car to hotel.
Day 03. Transfer in Amirsoy. Highest point – 2275 m. The slopes in Amirsoy are based on local terrain and taking into account international standards. During the winter season, skiers and snowboarders have access to 11 relief slopes with varying levels of difficulty and a total length of more than 15 km. The peculiarity of local climate creates extreme temperatures and plentiful snowfalls which promote a high-quality snow cover. Slopes in area of skiing have smoothed relief (steepness up to 30 degrees) without deep gorges and canyons. Archa and the deciduous woods grow on slopes alternating with open glades.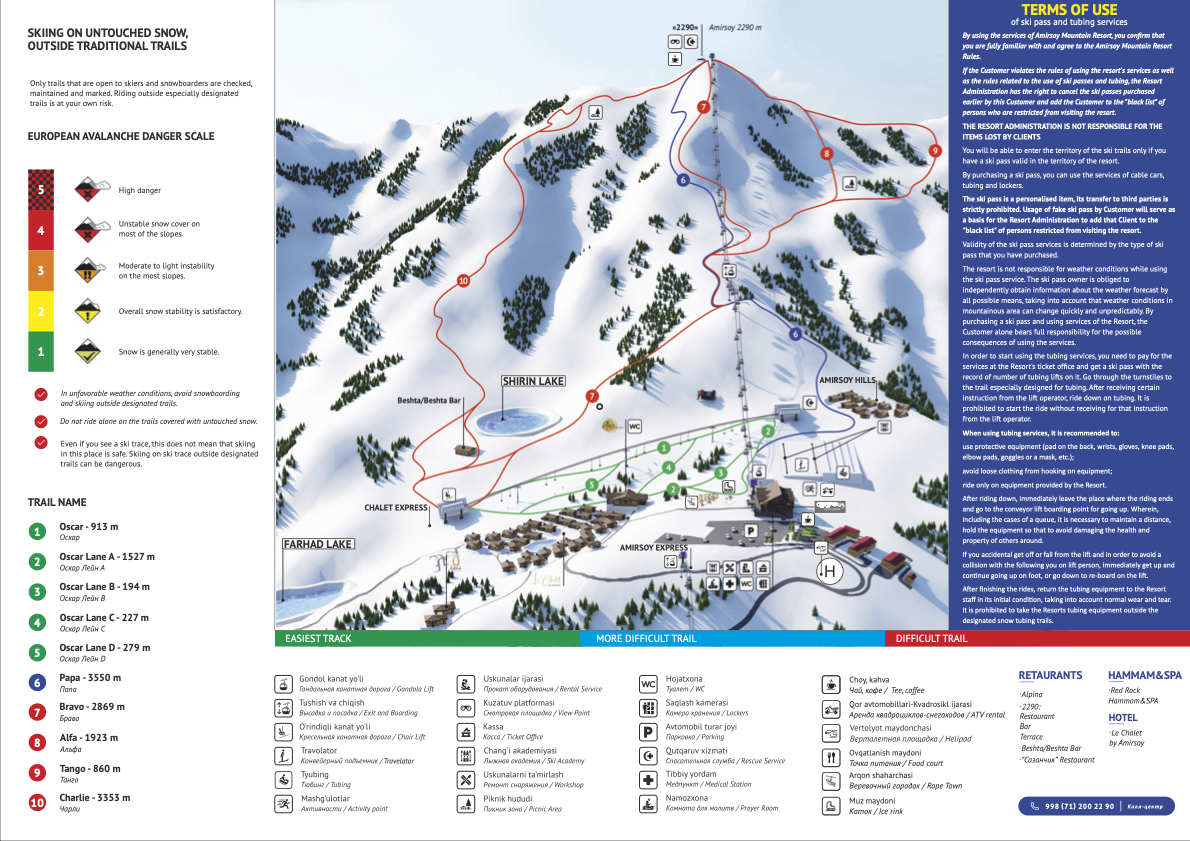 For the experienced backcountry skiers we offer to descent from Maygashkan peak to Beldersay village. Vertical drop – 800 m. Return back to hotel by car..
Day 04. Ascent to the Smaller Chimgan peak and then descent towards the Charvak Lake. Night in hotel.
Day 05. Repeat the most exciting element of previous days.
Day 06. Repeat the most exciting element of previous days or Amirsoy resort skiing. Transfer to Tashkent train station. Leave for Bukhara by the night train.
Day 07.
07.00 Meeting at the Kagan train station. Transfer to Bukhara. A breakfast in hotel;
09.00 Excursion across Bukhara;
19.00 Transfer to train station;
20.50 Train to Samarkand.
Day 08.
01.40 Arrival in Samarkand. A meeting at train station, transfer to hotel.
10.00. Excursion across Samarkand.
17.30. Transfer to the train station.
18.00 Train to Tashkent.
20.00 Arrival in Tashkent, meeting at train station, transfer in the airport.
End of the program
The cost includes:
All meetings, seeng-offs and transfers on a route.
Service of a professional guide.
Accommodation in Chimgan hotel.
Registration.
Railway tickets for a train (compartment) Tashkent – Bukhara, Bukhara – Samarkand.
Railway tickets for «Аfrosiab» train Samarkand – Tashkent.
Service of guides in Samarkand and Bukhara.
Car with the driver during excursion in Samarkand.
Breakfast in Bukhara and Samarkand, Chimgan.
The cost does not include:
A food in Chimgan and in the cities.
Skipass/Lift charge in Chimgan and Beldersay.
Entrance tickets for excursion objects in Samarkand and Bukhara.
Rent of ski/board, tent, sleeping bag and personal gears and wearing.
Price: upon your request
Local peculiarities of Ski Touring in Uzbekistan Mountains
Uzbekistan Mountains near to Tashkent



Chimgan Mountains
The Chimgan Mountains are invariably attractive for skiers. The wide variety of Chimgan and its surroundings allows all kinds of ski activities. The most interesting region for ski touring is the area of the Western Ridge of Greater Chimgan Peak (start of descent at height of 2350 m), ascent through Tahta-Djaylao (2190 m) saddle. Another attraction for ski-tourers is ascent to the Smaller Chimgan peak and then descent towards the Charvak Lake. The Charvak Artificial Lake lake is located at the altitude 900m above the sea level. The lake is surrounded by mountain ranges.
Climate combined with mountainous terrain provides ideal conditions for the development of winter sports. Infrastructure opens good possibilities for off-piste and ski touring. The best time for ski touring – late January – March.
There are the guides for all kinds of skiing and snowboarding.
Reference: http://www.parus87.com/Chimgan.htm