Razdelnaya peak expedition
Supplier of services: ClimberCA Inernational Consortium. About Us. 
Telegram – https://t.me/ClimberCA
WhatsApp / Viber +7966 065-53-44
e-mail – your@climberca.com
Note: ClimberCA offers to you the best service & the firm prices of all kind of services we offer on our web-pages. Some services, which we offer to you, are truly unexampled.
Climbing is cool. It's fashionable. More and more people every year want to test their ability in the mountains. But not everyone is equally rich and healthy for such expeditions. One able to attempt the highest mountain peaks of the world, like Everest and Cho Oyu. Others choose in the middle, at the peaks of 7000m +. But even more climbers are attracted by the so-called trekking peaks with a height of 6000m +. We have a large list of climbing programs for such peaks. Most of them are located in the Nepal Himalayas. But in the season of 2019, the top-selling trekking peak climbing program became Razdelnaya peak (6148 m.) package. Why?
The phenomenon of organised camps
In the Himalayas, there are a lot of peaks that attract climbers. But when you look at the climbing program and see the words Base Camp, what does this mean? Does this mean that the Base Camp is an organised place where climbers can expect comfortable accommodation, food, Internet and other facilities? Not at all! Very often, this is just a point, from where the ascent to the top usually begins. Everything that you will need for sleeping, cooking, seating, eating etc., you have to bring with you, or your tour operator must deliver it there for you.
In the Kyrgyz mountains, this is not so. At the foot of Lenin Peak, Khan-Tengri Peak and Ala-Archa, comfortable base camps have been created, moreover in Ala-Archa, the hut can host climbers all year round. But back to Lenin Peak. Arriving in Osh by plane, having one backpack, with your personal belongings, in just a few hours you will find yourself in a comfortable Base Camp. Here, tents with beds are ready for you, food is prepared. The camp has electricity, internet and even a doctor.
Here you can rent most of the things you need to climb. Last season, for the first time, even high-altitude boots were offered for rent.
So, it remains only to climb to the top. But on the way to it there is the Advanced Base Camp almost as comfortable as a BC, and high-altitude camps with pre-installed tents, high-altitude food and kitchen utensils. All this greatly reduces the level of requirements for climbers. Reduces climbing time and program cost. Here's the answer to the question: why last seasons Peak Razdelnaya appeared among the best-selling destinations.
International Mountaineering Camp (IMC)
International Mountaineering Camp (IMC) "Pamir" will be active from 1st July till 1st September 2024.
There is a unique opportunity to spend part of the summer 2024 in the area of Lenin Peak in the legendary International Mountaineering Camp (IMC) "Pamirs".
This was the first international mountaineering camp in the Soviet Union, opened in 1974 at the Achik-Tash glade in the Alai Valley. Many famous climbers of the world remember those "golden times" of this camp.
The camp received a new lease on life in the summer of 2019, when a team of professionals rented the IMC premises.
Amazing landscapes, stunning turquoise lakes, Lenin glacier, blooming edelweiss, fresh air and pristine mountain energy, familiarity with the life of the indigenous inhabitants of the Pamirs – all this is within walking distance from the IMC "Pamirs", where you will stay with comfort. National cuisine, a Russian bathhouse, horseback riding – this is an incomplete list of what awaits you during your stay in the IMC "Pamirs"!
In 2024 season everyone will be able to rent high-altitude boots, crampons, ice axes, harnesses, carabiners, jumars, trekking poles, sleeping bags, helmets, gas burners, ropes and so on.
The International Mountaineering Camp team sets up the ABC at an altitude of 4400 meters and high-altitude camps with spacious tents along the way to the top of the Lenin Peak.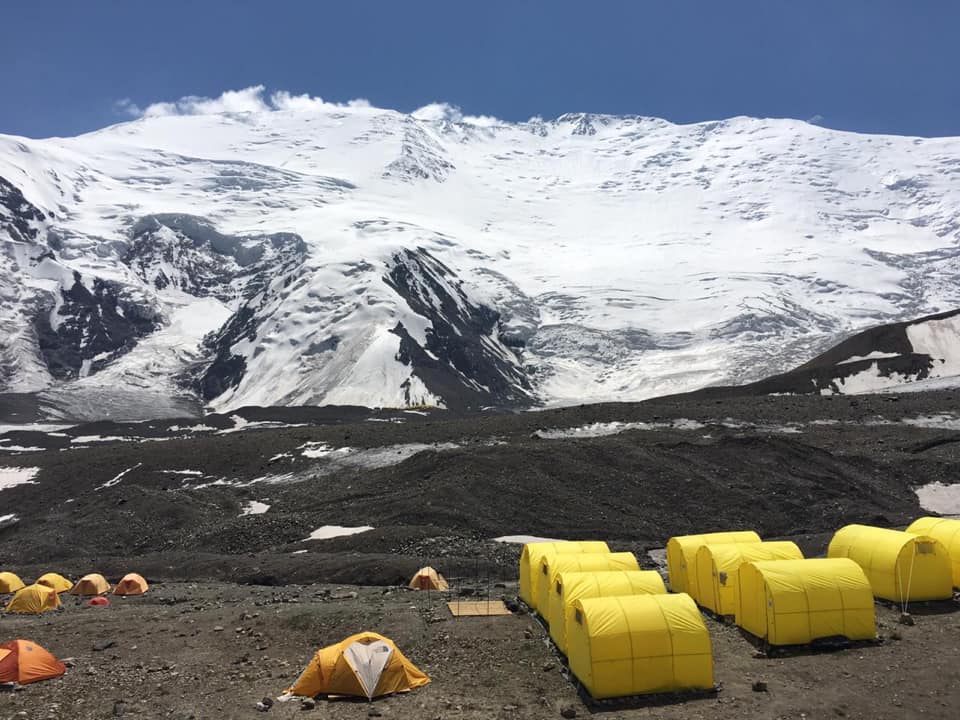 Route Description
From International Mountaineering Camp "Pamir" we head over the Puteshestvinnikov Pass (4200m). Then we descend to the left moraine of the Lenin glacier. The hiking to Camp 1 (AIMC) is going by a clearly visible path. Further we should cross the river carefully. The best time for crossing is morning. From AIMC to Camp 2 firstly we cross the dry Lenin Glacier, then ascent by the center of North Face through a lot of crevasses on the both sides of the path. At 5000 meters we traverse to the west and, ascending gently, we arrive at the rim of a large snow basin. Camp 2 is located at scree on 5600 m. This day an early start is needed to avoid bad effects of the sun. From Camp 2 the route leads by 20-30 degrees slope at North-West ridge. The final 400 meter climb to the summit of Razdelnaya Peak is straight-forward but high altitude makes it hard work. The views from the summit are superb. At North we can finally get the true perspective of the Alai-Pamir while at South there are a multitude of snowy peaks. Communism and Korzhevskaya peaks dominate at the South Pamirs.
Basic program: 14 days
Day 1. Arrival to Osh, transfer and accommodation in a hotel.
Arrival to the airport. You will be met by our representative. He will give you all necessary documents. Transfer to the hotel.
Day 2. Transfer Osh – International Mountaineering Camp "Pamir".
After breakfast transfer to IMC "Pamir" on our transport. In the camp our staff will show you a comfortable room inside one of the camp houses or a spacious tent for 2 people. Today you will meet your guide and you can ask him any questions about your further expedition.
Day 3. Acclimatization in Base Camp and radial hiking to a waterfall.
After the breakfast you will go for acclimatization hiking. Return to IMC and lunch. Rest and check the equipment.
Day 4. Acclimatization ascent to the ridge of Petrovskiy Peak.
After the breakfast we will start hiking to the ridge of Petrovskiy Peak. Ascent to 4000 m. asl till the snow cap. You will see the breathtaking views of Alay and Achik-Tash valleys. Return to IMC "Pamir" and rest.
Day 5. Trekking to Camp 1 (4400 m).
After breakfast trekking to Camp 1. You can send a luggage by horses (for extra payment). The route is going through alpine meadows, Puteshestvennikov pass and then by the slope of the ridge along Lenin glacier. Trekking takes 4-7 hours depending from your physical conditions.
Day 6. Ascend to Domashniy (Home) Peak (4750 m.) or Yuhin Peak (5120 m.)
After breakfast start acclimatization climbing. The ascend doesn't require special equipment. Depending on the condition of the group, you can climb Domashny peak or climb further to Yukhin peak. Return to Camp 1.
Day 7. Preparing for the ascent.
Training on the ice in the morning. Exercises for moving along the glacier, team-rope work, ascend and descend by the fixed rope, self-safety skills and rescuing the injured from the crevasse. After lunch we are preparing for the climbing to Camp 2.
Day 8. Climbing to Camp 2 (5600 m).
Early breakfast. Start at 4 A.M. Ascend by a north slope of Lenin Peak. You will go in rope-team in crampons through glacier crevasses. Climbing takes about 7-9 hours. Accommodation in Camp 2. Cooking by yourself.
Day 9. Climbing to Razdelnaya Peak (6148 m.) and return to Camp 2.
Start at 9 A.M. By a steep slope to a ridge you are going to Razdelnaya mountain. Moving in a rope-team in crampons. The average climbing time is 4-6 hours. Descend to Camp 2. Rest. Cooking by yourself.
Day 10. Descend to Camp 1.
Early morning you will descend to Camp 1. Lunch in Camp 1.
Day 11. Descend to IMC "Pamir" (3600 м.)
Descend to IMC "Pamir". Rest.
Day 12. Reserve day.
Reserve day in case of bad weather.
Day 13. Transfer from IMC "Pamir" to Osh.
After breakfast transport to Osh town. Lunchbox for the road IMC – Osh. Accommodation in the hotel.
Day 14. Flight back home.
Driver will take you to your flight home.
Guaranteed departure date expedition with experienced mountaineering guide.
For you convenience in 2024 we organize group departures with fixed dates!
2 July – 15 July
9 July – 22 July
16 July – 29 July
23 July – 5 August
30 July – 12 August
6 August – 19 August
13 August – 26 August
The cost of program in 2023
The cost of the program Osh-Osh in 2024 – 1400 USD/person
It includes:
Experienced high altitude guide
Installed high altitude tents at Camp 2 and Camp 3
Group equipment: rope, gas cartridges and gas stoves, cooking set.
High altitude food
Boundary zone permit, OVIR registration, visa support (if necessary);
Meeting/seeing off at the airport/ or at Dustlik check-post;
Transfer Osh –IMC "Pamir" – Osh
Transfer IMC – Onion glade – IMC (according to the schedule)
Lunch en route Osh- IMC – Osh;
Accommodation in hotel in Osh during the program (no more than 2 nights in total)
Rent of walkie-talkie (guide will carry radio station and contact ABC);
Registration at rescue team;
Ecological fee;
Additional payment for Bishkek-Bishkek program is 250 USD/person. This cost includes:
Accommodation in hotel in Bishkek for 2 nights
Flights Bishkek-Osh-Bishkek
Transfers airport – hotel – airport – 4 times
The cost of packages does not include:
– The cost of Kyrgyz visa
– International flight
– All optional deviations from the main itinerary
– SGL hotel accomodation ( extra 40 USD for Osh-Osh package, 60 USD for Bishkek-Bishkek package)
– Beverages and meals not included in main menu (meal in the cities)
– All personal expenses (extra luggage fee, room service, medical expenses/insurance, etc.)
– The rent of personal mountaineering equipment for ascending
Services at IMC "Pamir" and Camp 1:
| | |
| --- | --- |
| Services at International Mountaineering Camp "Pamir" at 3600 m.: | Services at Camp 1 (ABC) at 4400 m.: |
| Accommodation in double tents. Each tent is equipped with mattresses , wooden platforms and electricity. | Accommodation in double tents with mattresses and wooden platforms, electricity from 18:00 until 22:00. |
| Meals – full board. Buffet breakfast | Meals – full board. Early breakfast from 3 to 4 a.m. on request |
| Café – dining room, WC, storage, hot shower | Dining-tent, WC tent, storage tent |
| Medical first aid and doctor's consultation | Medical first aid and doctor's consultation |
| Electricity 220V, permanent source of electricity! | Electricity 220V, 50HZ from 18:00 till 22:00 |
Cost of additional services in 2024:
Additional services in Lenin Peak
Prices in USD
IMC (3600 m.)
C1 (4400 m.)
Sauna in IMC (capacity: 4-5 person) and Camp 1 (capacity: 2-3 person)
30/hour
30/hour
Gas cartridge
10/for 1 can. 230 gr
Internet (WI-FI)
–
5 / hour
Porter services
Cost per 1 kg USD
IMC (3600 m.) – C1 (4400 m.) or C1(4400 m.) – IMC (3600 m.)
3
C1 (4400 m.) – C2 (5600 m.) or C2 (5600 m.) – C1 (4400 m.)
10
C2 (5600 m.) – C3 (6100 m.) or C3 (6100 m.) – C2 (5600 m.)
12
C1 (4400 m.) – C3 (6100 m.) or C3 (6100 m.) – C1 (4400 m.)
22
Additional services in Bishkek and Osh
Price USD
Flights Bishkek – Osh – Bishkek
Depending from tariffs of aero companies
Accommodation in 3* hotel in Bishkek
Sgl
Twin
50/room
60/room
Accommodation in 3* hotel in Osh
Sgl
Twin
50/room
60/room
Transport services
Price USD
Individual transfer Osh – IMC or IMC – Osh (one way)
Mercedes Sprinter microbus (max 10 people)
Jeep/minivan

 (max  4 people)

300
300
List of required equipment:
1. Backpack – 85 liters
2. Sleeping bag -1
3. Sleeping pad – 1
4. Harness – 1
5. Carbines  – 4
6. Jumar – 1
7. Crampons– 1
8. Repshnur (6-7 mm) – 5 m
9. Ice axe – 1
10. Sun glasses – 1 or 2
11. Torch (headlamp) -1 + set of spare batteries
12. Ice screw -2
13. Folding knife – 1
14. Down jacket/parka -1
15. Gortex: pants, jacket – 1 suit
16. Polartec: jacket 200 -1; pants – 1   17. Thermal underwear – 1 suit
18. Polartec 100 – 1 suit (jacket, pants)
19. Polartec gloves -1
20. Overmitts – 1.+ windproof -1
21. Warm hat -1
22. Balaclava -1
23. Warm socks -2 pairs
24. Socks
25. Gamashi
26. Sun protection crèam
27. Figure-8 descender – 1
28. Telescopic Sticks (poles). – 1
29. Avalanche shovel –1
30. High altitude boots – 1
31. Trekking boots -1
Insurance policy
ATTENTION! To participation in Razdelnaya Peak expedition the purchase of an insurance policy is OBLIGATORY!
Below you can check the list of our requirements to the insurance policy.
1) GLOBAL VOYAGER CAN NOT INTERVENE as an insurance company assistant . Our company does not work with GLOBAL VOYAGER assistant. In case the client has purchased an insurance policy in any company whose assistant is GLOBAL VOYAGER, medical and transportation expenses will be borne by the client involved.
2) The sum of the policy must cover not less than USD 30000,00
3) In the field "occupation" (or "sports practice") "Mountaineering" must be notified
4) As Country of stay – Kyrgyzstan
5) The effective dates of the insurance policy must be included and coincide with the dates of Stay in Kyrgyzstan
6) The insurance policy must cover at least "first aid" and "transportation of the injured" by helicopter if necessary. The amount of coverage for the "transportation of the injured" must be at least $ 10000,00 (be sure of this point to be included during the formalization of the insurance policy)
Attention. Responsibility for the reliability of the insurance company and for the accordance of insurance policy to our demands holds by the owner of insurance.